Educational Perspectives in Modern and Simple Society
Keywords:
Educational Perspectives
Abstract
Education is the door to the modern world, because only through education can socio-cultural changes be carried out, namely developing knowledge, adjusting values and attitudes that support development and mastering various skills in using advanced technology to accelerate the development process. The process of developing all aspects of life is called modernization.One very big difference between education in simple societies and modern societies is the shift away from the need for an individual to learn something on which everyone agrees. Children of the common people went to an expert in their tribe to learn what could be learned about certain activities such as fishing, hunting and setting traps. Modern society educational institutions have a series of supporting indicators that are modern, while in a simple society the form is different, the method of application may be different and the equipment is also different. The direction of socio-cultural change, modernization, or development that a society undergoes in science and technology helps people solve almost all of the problems they face in order to achieve the level of welfare or prosperity that they desire, is the direction that all nations around the world will aim for.
References
Ananda, A. (2016). Landasan Ilmiah Ilmu Pendidikan. Jakarta: Kencana.
Istati, M., & Hafidzi, A. (2020). Konseling teman sebaya berbasis islam dalam mengurangi kecemasan mahasiswa menghadapi tantangan masyarakat modern. Al-Ittizaan: Jurnal bimbingan konseling Islam, 3(1), 13-26.
Junaedi, M. (2020). Agama dalam Masyarakat Modern: Pandangan Jürgen Habermas. Manarul Qur'an: Jurnal Ilmiah Studi Islam, 20(1), 1-11.
Kariyanto, H. (2020). Peran Pondok Pesantren dalam Masyarakat Modern. Jurnal Pendidikan" EDUKASIA MULTIKULTURA", 2(2), 67-82.
Kurniawan, A. (2016). Peran Tasawuf dalam Pembinaan Akhlak di Dunia Pendidikan di Tengah Krisis Spiritualitas Masyarakat Modern. JURNAL YAQZHAN: Analisis Filsafat, Agama dan Kemanusiaan, 2(1).
Kurniawan, A. (2018). Metodologi Penelitian. Bandung: Remaja Rosdakarya.
Mahmud & Suntana, I. (2012). Antropologi Pendidikan. Bandung: Pustaka Setia.
Manan, I. (1989). Anthropologi Pendidikan (Suatu pengantar).Jakarta: LPTK.
Melfianora. (2019). Penulisan Karya Tulis Lmiah Dengan Study Literature. Pekanbaru: UPT Balai Pelatihan Penyuluh Pertaninian.
Mustaghfiroh, S. (2020). Konsep "merdeka belajar" perspektif aliran progresivisme John Dewey. Jurnal Studi Guru Dan Pembelajaran, 3(1), 141-147.
Mutiani, M. (2022). Kajian Empirik Pendidikan dalam Latar Peristiwa Masyarakat Tradisional, Modern, dan Era Globalisasi.
Ngafifi, M. (2014). Kemajuan teknologi dan pola hidup manusia dalam perspektif sosial budaya. Jurnal Pembangunan Pendidikan: Fondasi dan Aplikasi, 2(1).
Nurdin, I., dan Hartati, S. (2019). Metodologi Penelitian Sosial. Jatinangor: Media Sahabat Cendekia.
Panjaitan, A. P., dkk.(2014). Korelasi Kebudayaan dan Pendidikan: Membangun Pendidikan Berbasis Budaya Lokal. Jakarta: Buku Obor.
Putri, A. A. (2018). Rekonstruksi Pendidikan Islam Kontemporer Dalam Perspektif Transformasi Sosial. HIKMAH: Jurnal Pendidikan Islam, 7(1), 1-21.
Rifa'i, A. (2016). Revitalisasi Fungsi Masjid dalam Kehidupan Masyarakat Modern. Universum: Jurnal Keislaman dan Kebudayaan, 10(02), 155-163.
Rosyadi, Y. F. (2020). Representasi Gastronomi Indonesia pada Masyarakat Modern dalam Novel Aruna dan Lidahnya Karya Laksmi Pamuntjak. Jurnal Penelitian, Pendidikan, dan Pembelajaran, 15(25).
Sarinah. 2016. Ilmu Sosial Budaya Dasar. Yogyakarta: Deepublish.
Widiansyah, A. (2017). Peran ekonomi dalam pendidikan dan pendidikan dalam pembangunan ekonomi. Cakrawala-Jurnal Humaniora, 17(2), 207-215.
Zubaedi, Z., & Utomo, P. (2021). Nilai Kerja dalam Pendekatan Tasawuf dan Pengaruhnya Sebagai Bimbingan Pribadi-Sosial Terhadap Pembentukan Karakter Masyarakat Modern. Altifani: Jurnal Pengabdian Masyarakat Ushuluddin, Adab, dan Dakwah, 1(2), 99-112.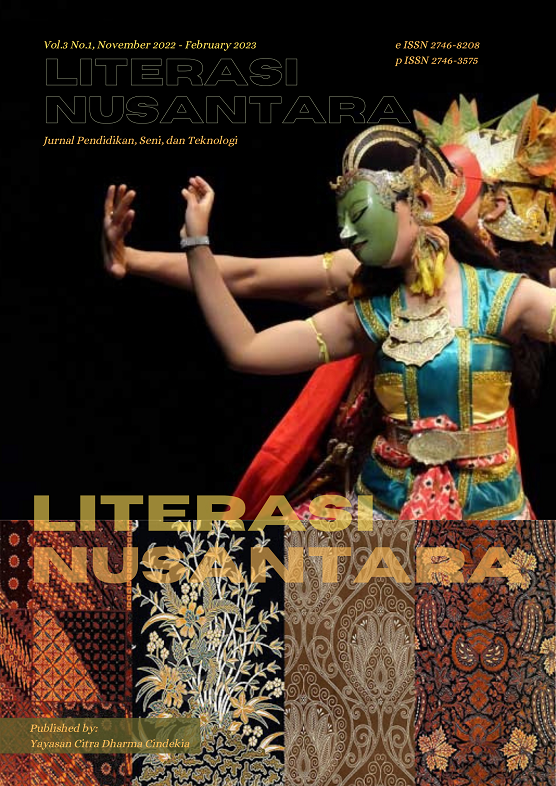 Downloads
How to Cite
Abdurrahman, F., Firman, & Ahmad, R. (2023). Educational Perspectives in Modern and Simple Society: Array. Literasi Nusantara, 3(1), 25–33. https://doi.org/10.56480/jln.v3i1.811
License
Copyright (c) 2023 Faris Abdurrahman, Firman, Riska Ahmad
This work is licensed under a Creative Commons Attribution-ShareAlike 4.0 International License.
Copyright Notice

Authors who publish with this journal agree to the following terms:
Authors retain copyright and grant the journal right of first publication with the work simultaneously licensed under a Creative Commons Attribution-ShareAlike 4.0 International License that allows others to share the work with an acknowledgment of the work's authorship and initial publication in this journal.
Authors are able to enter into separate, additional contractual arrangements for the non-exclusive distribution of the journal's published version of the work (e.g., post it to an institutional repository or publish it in a book), with an acknowledgment of its initial publication in this journal.
Authors are permitted and encouraged to post their work online (e.g., in institutional repositories or on their website) prior to and during the submission process, as it can lead to productive exchanges, as well as earlier and greater citation of published work (See The Effect of Open Access).

This work is licensed under a Creative Commons Attribution-ShareAlike 4.0 International License.